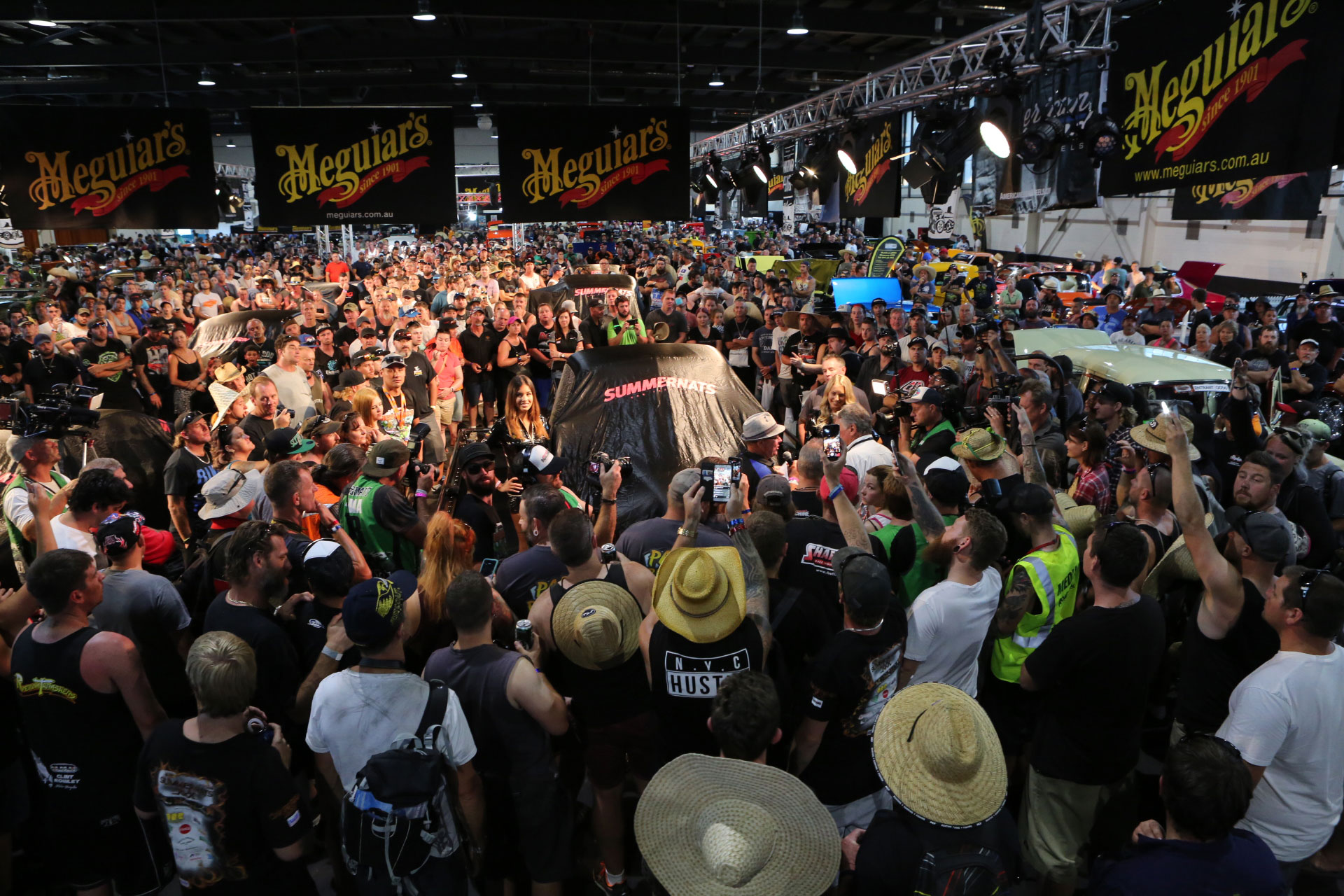 Seven sensational machines were revealed to a huge Summernats crowd in the Meguiar's Pavilion, here's a quick rundown on each of these brand new show stoppers
MICHAEL BELLETTE
1969 XW Falcon – BLUE RAY
BUILT as a tribute to his late brother, Raymond, Michael drove this XW home four years ago and immediately tore it down for a quick tidy up. As with many builds, one thing led to another and here we are; centre stage in the Great Meguiar's Uncover. Mind you, most of the work was done in the last two years – with a lot of help and support from his dad, Glenn, wife, Kristy and painter, Andy. Michael loves his XWs, with BLUE RAY being his third – however with a tough 347 Windsor up front, an Inside Rides custom leather interior and sensational paint 'n' panel, this is by far his best. Michael is a panel beater by trade and put his skills to good use fabricating the all-steel, reverse-cowl hood. At all four corners is one-off, American Legend forged billet wheels, 20x7s up front and hefty 20x11s out back. And despite being told it couldn't be done, he mini-tubbed the rear to swallow those portly 20x11s after Bellette Motorsports had already laid on the stunning blue paint – how risky was that!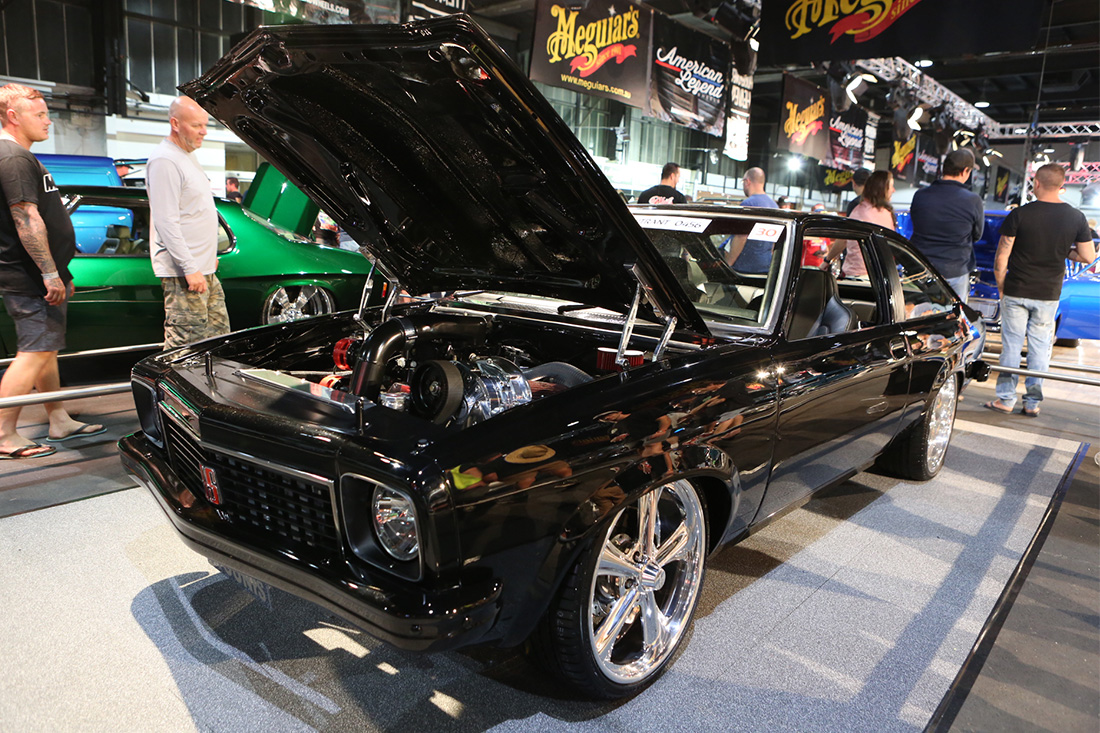 TONY YOUNIS
1977 Torana LX Hatchback – YOUNIS
WITH a wild Anglia drag car and tough T-bucket already in the garage, Tony wanted something a bit more street friendly this time around. Louis Younis (who built much of the car with his brother Daniel), commented, " we wanted dad to be able to drive to the track, run an 8 and then drop into church on the way home – no nitrous, no methanol, no trailer, no hassle." With this in mind Tony built the F2 Procharged and intercooled, 406 small-block to be PULP friendly. The driveline is equally tough with a built Powerglide and 40-spline Mark Williams diff. Despite all the premium-quality, race-spec parts and body-hugging roll cage, this gorgeous black hatchback doesn't look over the top. In street trim, the LX has an almost Pro-Touring look about it – especially with the untubbed rear end, factory rear suspension, factory-style trim and Dakota Digital gauges grafted into the stock gauge cluster. Many thanks to Paul Abela for the slick panel 'n' paint, Wayne Grima for a tonne of wrench work, Dino for electricals and host of tick bits from Lowe Fabrications.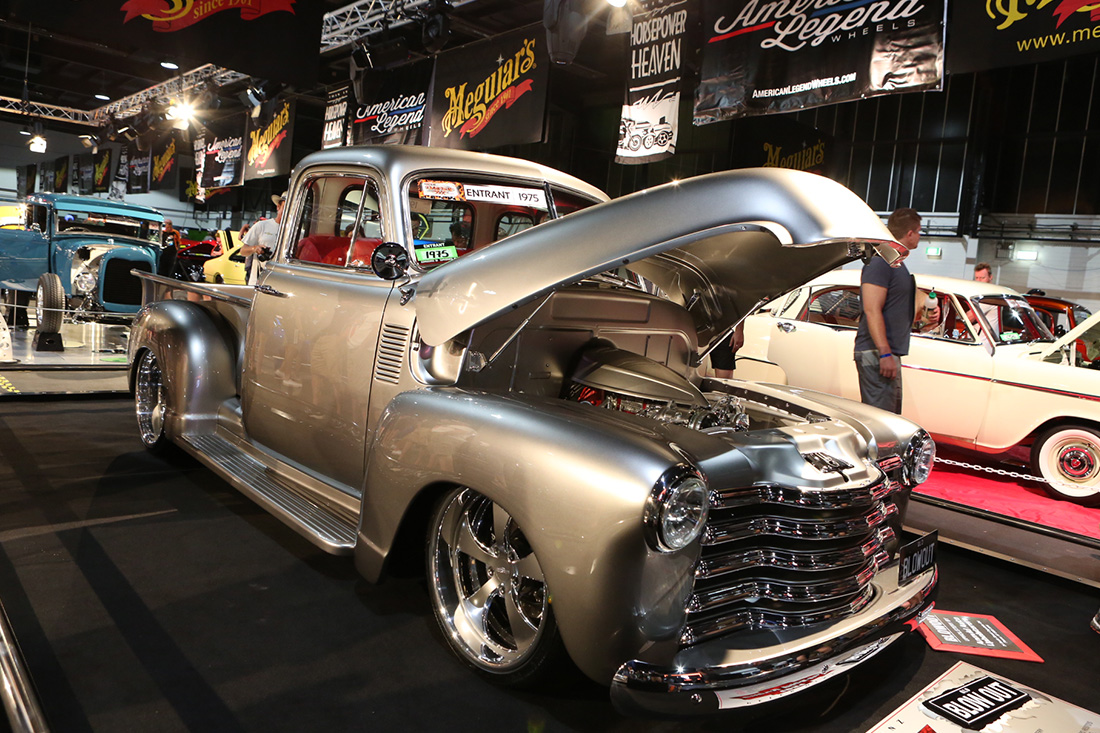 PETER HINZ
1951 Chevrolet Pick-Up – BLOWOUT
"I NAMED it BLOWOUT," says Peter, "because it went into Pat's Pro Restos to address an overheating issue and it turned into a full-on, 10 and half month build."
That said Peter is far from complaining, "I can't believe how good it turned out. The build went so smoothly, I didn't mind that things went way beyond what we originally intended."
To drop the ride height, a Mustang II front end and four-bar rear was added to the smoothed and boxed chassis. Holding the truck off the ground is a trick set of colour-coded 20×8 and 20×10.5 American Legend forged billet two-piece wheels. Peter and his mates brought the wheels home from the USA as hand luggage! All the engine bay sheetmetal from the firewall forward was fabricated from scratch and it now houses a fully-dressed 383 SB Chev. Rounding out the driveline is a TH700 and 3.50:1 nine-inch. Other neat touches include the custom tailgate latches, self-contained hinge set-up, stained wood in the tray, along with a host of polished stainless pieces incorporated into the bright red interior – which has been updated with all the mod cons like air conditioning, central locking, power steering and power windows.
"No '51 truck ever looked this good inside," said a very happy Peter.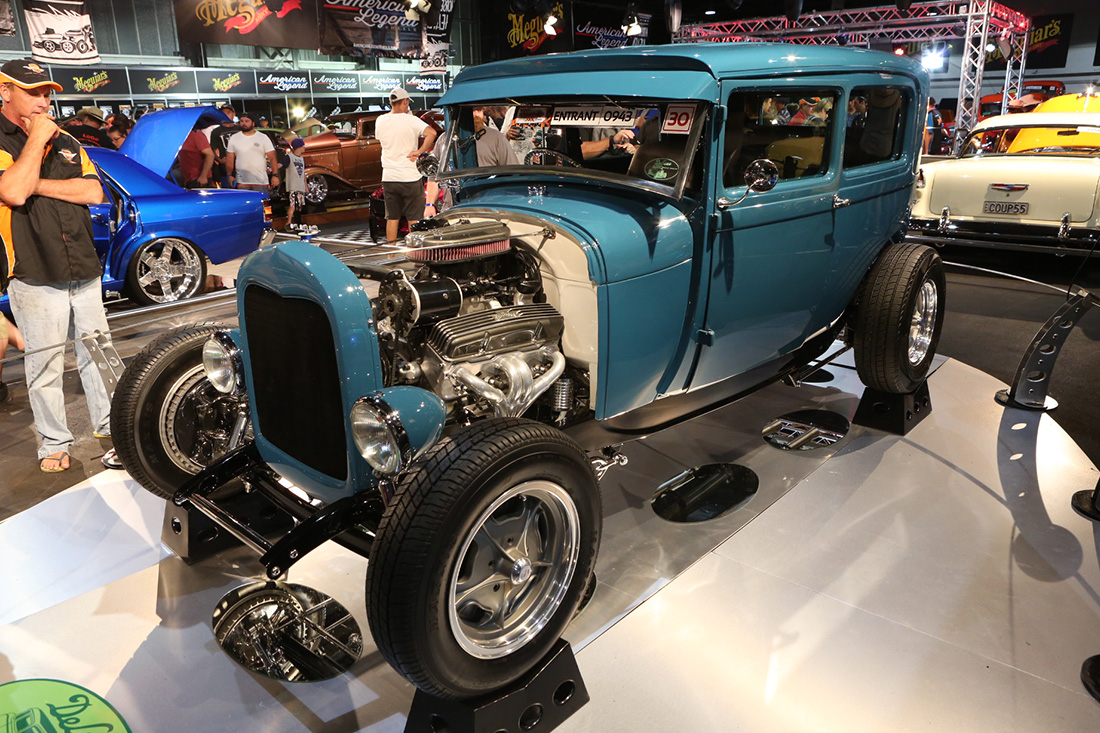 JAMES FAMILY
1929 A Model Tudor – THE FAMILY CAR
DELUXE Rod Shop (who've built seven Top 60 cars in the last seven years) screwed together this very traditional-looking Tudor for the James family – which is why it has been specifically configured to suit mother, father and son. Starting with an original, all-steel body, it was channelled one inch over a shortened and boxed '32 chassis before being chopped 2.5-inches. Between the front rails is an alloy-headed 383 small-block Chev backed by a Tremec TKO 600 and 3.7:1 Strange nine-inch. Steve from Deluxe says, "They want to drive it hard, so we used the best of everything so they wouldn't break it."
Inside the ET Dragmaster wheels is modern disc brakes concealed by SoCal finned drum brake covers. Looking inside reveals a handmade floor, custom pedal box, plus a hidden brake booster and full Vintage Air up out of sight under the dash!
And as for that unusual colour; it's called Dutches Blue and is the original 1929 colour that came on this car!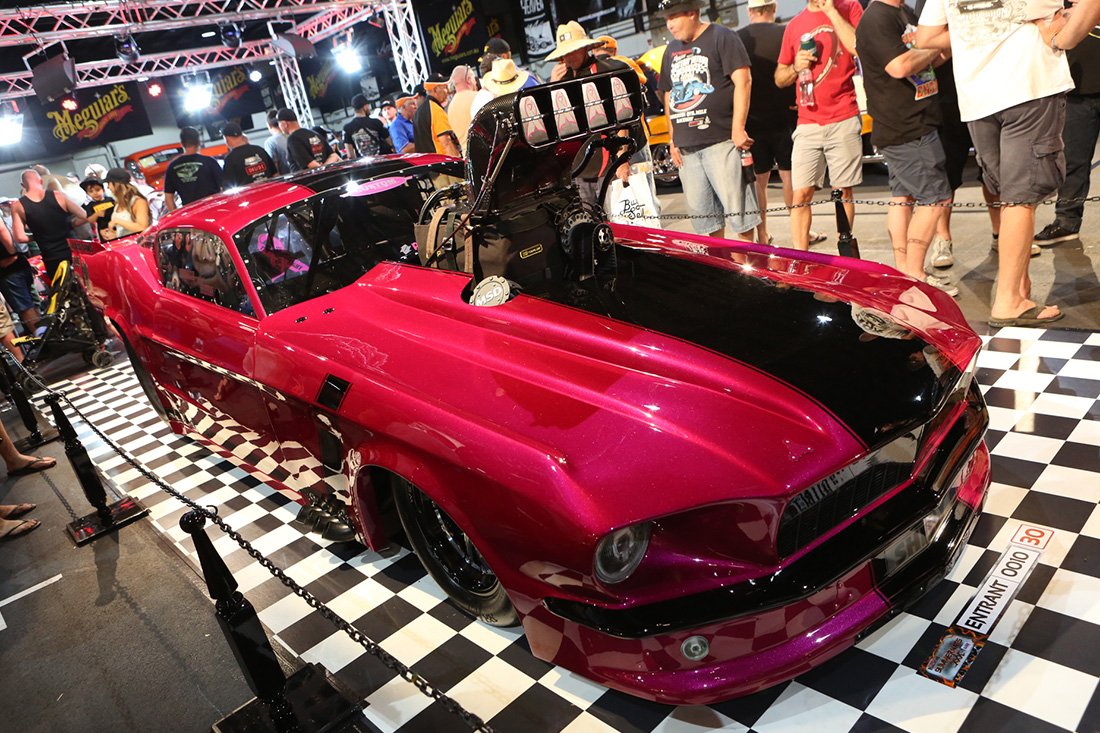 MICHELLE & GARETH DAVIES
1967 Fastback Mustang – MUSTANG SHELLY
HAVING set the world on fire in 10.5 Outlaw, with a record setting run of 6.380@221mph (which made Michelle the World's Fastest Female 10.5 racer), this ballistic '67 fastback Mustang is Michelle and Gareth's entry into Top Doorslammer. With a blown, alcohol-injected, 521ci all-aluminium billet Hemi bursting out the bonnet, it should run into the 5.80s – and maybe even into the 5.70s. Michelle is set to pilot the car to pointy end of the ultra-competitive Doorslammer field. And if you're thinking that gorgeous PPG Magenta Pink paint is a girly thing, you're very wrong. It's more about standing out, as Michelle is as tough a competitor as you're ever likely to come up against. Davies Racing only took possession of the car three months ago and it was a huge slog to make Summernats. In fact the car was only finished a few days ago, before being immediately loaded onto the Canberra-bound trailer.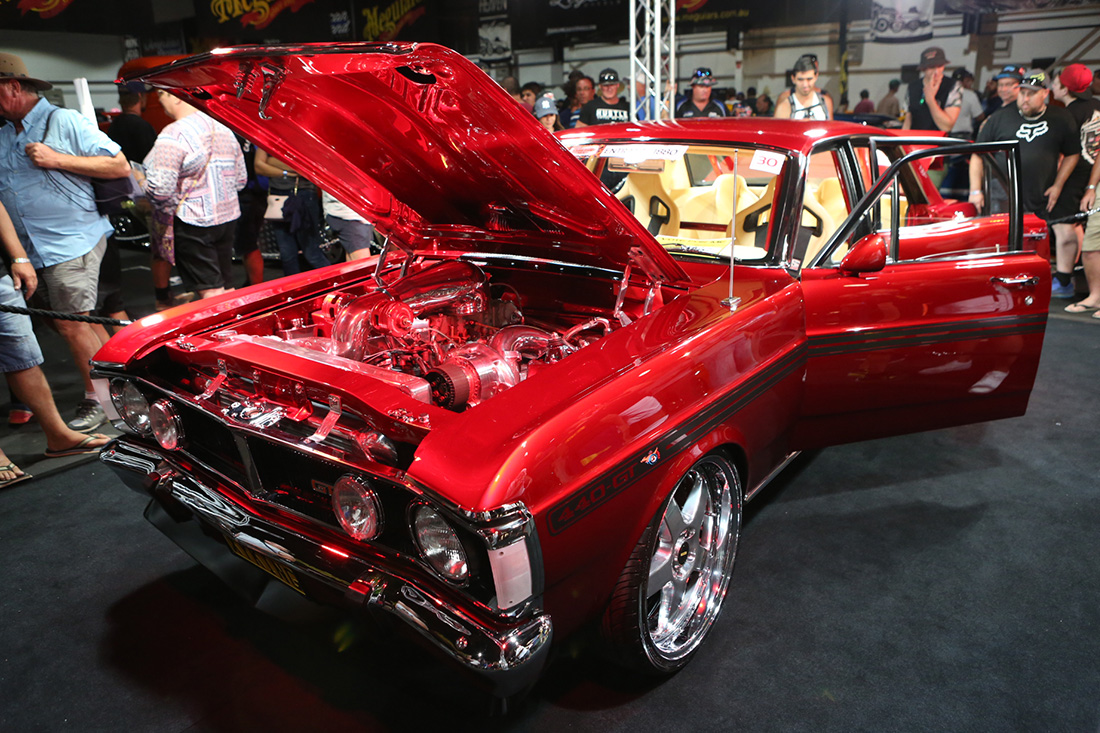 SIMON MOKDASSI
1970 XY Falcon – XYKING
SIMON certainly loves HOK Kandy Apple Red – this is the second car he's had painted in this classic hue.
"Growing up dad had a genuine GTHO Phase III," says Simon. "It was loud and he was always working on it, so naturally I always wanted one."
Rather than a tribute, Simon has built XYKING for a bit of everything; show car, drag racing and even burnout duties – all of which should be easy thanks to the 1600hp lurking under the hood. Built by Sash at AN Racing, the Dart small-block has been punched out to 440 cubes and is topped with CHI heads and an intercooled F2 Procharger pushing 30psi!
Coping all that grunt is a Reid 2-speed Powerglide and a 40-spline Mark Williams diff. Stopping all that grunt is 360mm rotors with eight-spot and six-spot calipers – which nicely fill out the 20×8 and 22×12.5 rolling stock. Simon had to modify the guards three times to get the tyres fitting the guards just right. Elite Custom Interiors looked after the leather trim work, while Queen Street Customs are responsible for the aforementioned Kandy Apple paintwork. XW/XY fans will also notice the trick billet dash knobs and bezels – they're just two examples of the myriad of custom pieces on XYKING.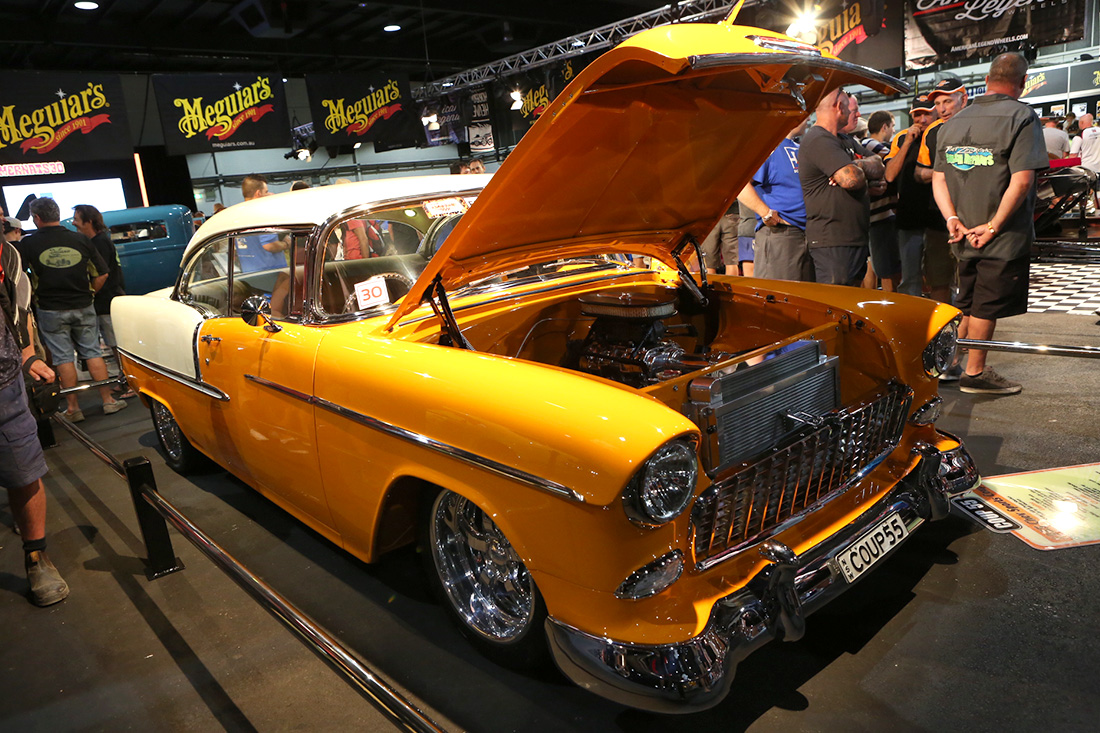 BILL & PENNY SHARKEY
1955 Chevrolet Bel Air – COUP 55
DESPITE owning the Bel Air for 21 years, Bill and Penny never got to drive it until a two days ago when they went for a quick spin around the block before loading it onto the trailer.
"It was a complete basket case when I bought it," says Bill. "No engine, no gearbox and a roof that looked like a swimming pool. As proprietor of High Gloss Spray Painting, customer's cars come first, so I built it as I got a bit of money here and there."
The build includes coil-overs all 'round, four-bar rear, a tough 400-cube small block up front along with a TH400 and 31-spline, 3.50:1 nine-inch. Penny especially likes the engine as it goes vroom, vroom really well – which has a lot to do with the Weiand 142 blower sitting up top.
During their ultra-short drive Bill and Penny were seated in leather comfort and looked out across a Dakota Digital dash. The big push for Summernats started in November 2015 and Bill acknowledges that without the help of many people like Dave Robert, Hud Johnson, Trevor Hutchens and Danny O'Brien it would never have made it.
I've had the colour (a vintage Harley Davidson combination), the look and the overall combination in my head for 20 years," says Bill, "Its everything I thought it would be."
VIDEO: Summernats 30 – Reflect Your Passion with Meguiar's