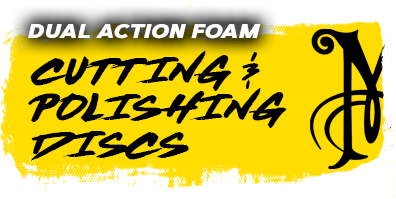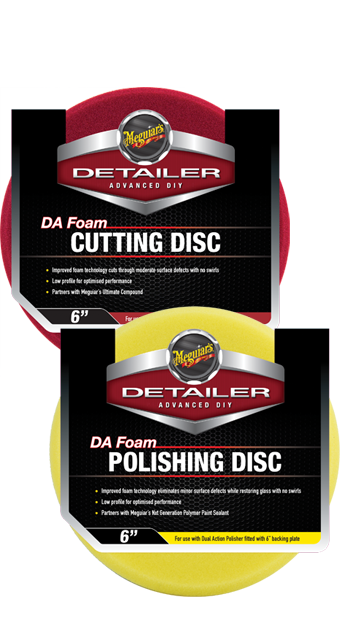 Transforms your paintwork without the high cost of pro detailing

Eliminates; swirls, scratches, buff trails and oxidation

Restores colour, clarity and gloss to like-new
Developed from the Meguiar's Pro Detailer program, the Advanced DIY Paint Correction system enables competent DIYers to give their car an astonishing show-quality finish, with the legendary shine that Meguiar's is world famous for. All in far less time and with far less effort than you ever imagined!
Cutting Disc | DFC6R | $34.95rrp
Polishing Disc | DFP6R | $34.95rrp
YOU GET ALL THIS WHEN YOU COMBINE:
The right Dual-Action (DA) polishing machine
Meguiar's DA Foam Cutting and Polishing Discs
Meguiar's Ultimate Compound and NXT Polymer Paint Sealant
WHAT CAN IT DO?
It's hard work removing stubborn paint imperfections by hand. The Advanced DIY Paint Correction system changes all that. It will quickly and safely remove fine scratches, swirls, oxidation and other surface imperfections. All while restoring colour, clarity and gloss, with no risk of damage.
WHAT IS DA TECHNOLOGY?
On a Dual-Action (DA) polishing machine, the pad rotates and orbits at the same time. It's safe, yet highly effective, with none of the mess, burnt-through edges, or damaged trim work and badges that inexperienced users typically suffer when using a traditional rotary buff.
WHAT DA MACHINE DO YOU NEED?
Minimum 8mm throw
Variable-speed, with soft start
Minimum 600-watt motor
Velcro backing plate that accepts 6" foam pads
WHY MEGUIAR'S PADS?
It's essential to upgrade the general-purpose pad. The advanced foam technology and low-profile design of the Cutting and Polishing Discs is essential. This reduces work time, as well as eliminating surface defects and scratches, while restoring and enhancing gloss. All with no swirls or buffing haze. You'll never achieve these results with a standard foam pad.
CHEMICALS AND ACCESSORIES?
To achieve astonishing results, use Meguiar's Ultimate Compound (G17216)and NXT Polymer Paint Sealant (G30118). They have a proven track record for delivering professional-like results and are unsurpassed at removing surface blemishes, while adding luxurious gloss and long-lasting protection. Use Meguiar's Supreme Shine Microfibre cloths (X2010) for final wipe off.