Meguiar's Ultimate Fast Finish is a revolutionary aerosol formula that offers a glossy finish with a long-lasting synthetic polymer coating that's extremely easy to use. This advanced formula offers the ultimate in polymer slickness, and water beading paint protection. The no buff formula allows you to complete an entire vehicle in around 15 minutes, simply spray and wipe.
FEATURES:
Meguiar's most advanced paint protecting formula
Technologically advanced, innovative, synthetic polymer coating provides relentless water beading protection wash after wash*
Protects for up to a full year!*
Meguiar's fastest & easiest way to protect paint, simply spray on & wipe
Use by itself or even on top of wax to extend protection.
One can will coat and protect up to 4 medium sized cars
*Lab tested durability over 100 wash cycles using a pH balanced car wash
DETAILS:
Part No: G18309
RRP: $49.95
Size: 241g (8.5oz) aerosol
Includes Microfiber Towel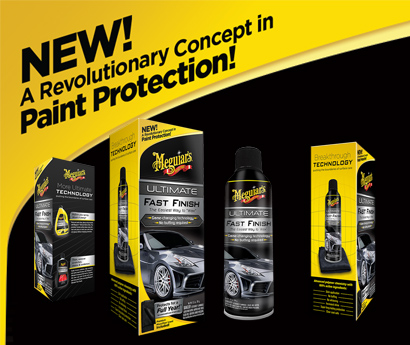 Keep your paint clean, glossy and protected with Meguiar's Ultimate Wash & Wax for regular washing – or Ultimate Waterless Wash & Wax if you are short on time, or have limited access to water. These premium Meguiar's formulas not only safely clean away dirt, dust and grime, without striping away existing protection. They actually enhance protection and gloss, thanks to the infusion of Meguiar's advanced Hybrid carnauba/polymer wax – all in one easy step!
G17748 – Ultimate Wash & Wax 1.48L
G177475 – Ultimate Wash & Wax 473ml
G3626 – Ultimate Waterless Wash & Wax 768ml

Surface prep may be required. The durability of Meguiar's Ultimate Fast Finish will be compromised if the paint is not completely smooth to the touch prior to application. Meguiar's Smooth Surface Quik Clay kit will quickly and easily remove the bonded contaminants that you typically can't see – only feel. Typically, they're baked-on and do not budge with washing, or even polishing. While the advanced micro-abrasive technology in Meguiar's Ultimate Compound will take care of scratches, scuffs or swirls, along with oxidation, water spotting and other paint blemishes. It's highly effective and clear-coat safe.
G1116 – Smooth Surface Quik Clay
G17216 – Ultimate Compound