Scratched car paint can be caused by a number of reasons; car accidents, key marks, poor parking and parking lot mishaps are all common occurrences. Scratches on your beloved car can be really annoying but also detract from the appearance your car, and in many cases it can be costly to have a body shop fix the issue.  If your car has acquired a few scratches, don't worry! Depending on the harshness of the scratch and with just a little effort the scratches can be fixed and your paint restored like new.
Today we'll give you a quick run-down on how to fix light scratches on your car. The car we will be working on is John's 2000 Honda Integra Type R.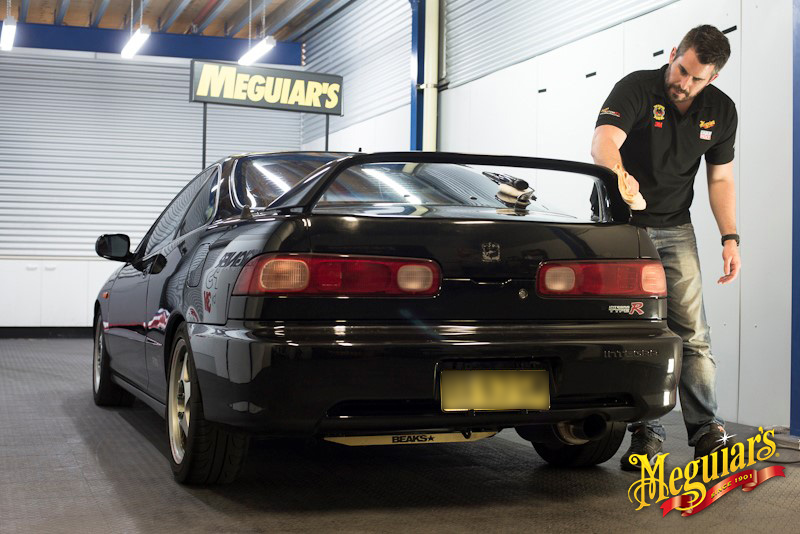 It's a good idea to establish the depth of the scratches on your vehicle before you begin with the process. In most cases your car should have 4 main layers; a clear coat, colour primer and steel. If the scratch is only as deep as the clear coat or color, it will be much easier to remove. If you can see a different color or steel, the scratch is deep and may not be able to be repaired.
The front right fender of John's Honda has seen some better days but just like we said before, don't worry! We'll fix her right up. Before we start it's important to make sure the car is clean by giving it a good wash and dry. If the surface you are working on is quite bad you might also need to clay bar the area before you proceed. Top panels such as the roof, boot and bonnet sometimes pick up more contaminates so it's best to give it a clay bar.
We're working in the detail bay today so we can't give the car a wash. We're using Meguiar's Quik Detailer today to give the fender a nice and thorough clean before we begin working on the scratches.
The scratch removal product we're using today is the Meguiar's Scratch X 2.0. Scratch X 2.0 is a great product to remove fine scratches and swirls from automotive paint by hand, it removes light surface contaminants, oxidation and blemishes while it enhances paint colour and clarity. ScratchX is not a cover up and will not cause additional scratches to your paint surface.
For best results, apply a small amount of ScratchX with an Even-Coat Microfiber Applicator Pad and remove any excess product with a Microfibre Polishing Cloth.
TIP: Work in small sections, rub the product across and with the scratch and continue to rub the product until it almost dissapears.
Make sure you let it dry, then remove the residue with a clean Microfibre polishing cloth. Here, you can see that the product is doing it's job and the fender is now looking much better. We've stripped away the protective layer on the vehicle so it's important to reapply some wax to reseal the paint.
We'll be using Meguiar's Ultimate Liquid Wax; this wax will increase your cars surface tension that will not only restore and improve paintwork to the highest level but will also achieve that showcar shine with the most amazingly deep, vibrant colour with an extraordinary wet-look. It has a 'full-synthetic' formula that delivers the longest lasting and highest quality protection with amplified reflectivity for that incredible depth and mirror-like shine. This product is really easy to apply/ remove and also leaves no white residue on trims and plastic mouldings.
TIP: Apply small quantity of product evenly onto a Hand Applicator Pad. Work in a circular motion without using excess pressure – let the product work. Additional product can be applied onto the pad or directly on the surface as required.
The final step is to buff and remove the residue with a clean Microfibre polishing cloth. Well there you have it, a low-cost scratch removal solution all done by hand.
FAQ: How often should I apply polish/wax?
For maximum protection against the harmful environmental elements, we recommend waxing your car your car 3-4 / year. To help extend your wax protection, always use a wash designed for automotive use like Meguiar's Ultimate Wash & Wax. Using household detergents will only strip wax protection and promote oxidation.
Where to buy Meguiar's products:
Retail stores – http://www.meguiars.com.au/stockists/
The Car Care Store – http://www.thecarcarestore.com.au/